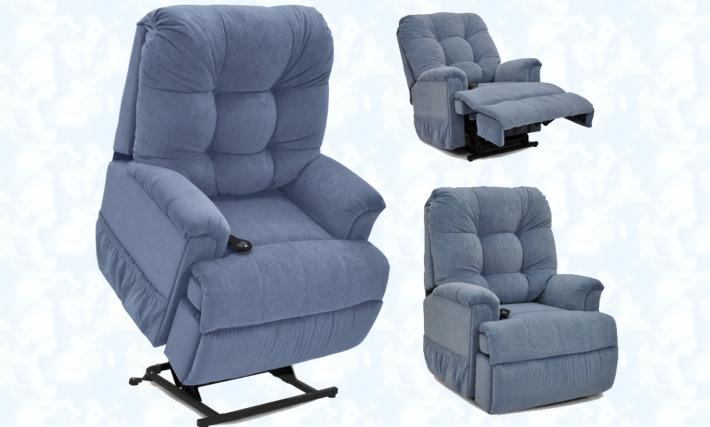 Submitted by Furniche on May 9, 2016 - 9:04pm
Power Lift Recliners are becoming more and more important for the aging consumer.
Power lift recliners have been available for many years and were primarily available through health and medical stores. However, many furniture stores now offer power lift recliners and chairs. Med-Lift has been building lift chairs in the United States and supplying them to furniture stores  since 1990. They have provided us information about their products and information to know when buying a power lift recliner.  Many aging consumers use their power lift chair for hours upon end and  some even sleep in the recliner. Here are key issues to consider when buying a powered lift chair.
The frame of the power lift recliner should be built using only kiln dried  hardwood or commercial grade plywood components. Power lift chairs are subject to repeated movements and pressures. Most stores will have mini models to show the construction features. A good retailer will offer to turn the chair over to show the frame features and quality from the inside.
The metal base of the chair is a key addition to the wooden frame. The metal lift base should be as wide as the chair to make certain the chair is stable. The metal base should be bolted directly to the wood frame with locking nuts on every bolt that attaches the metal frame to the wood frame.
The electric motor that raises and lowers the power lift recliner should be quiet when operating and strong enought to easily lift the rated weight. The best motors are generally German engineered. Ask about the warranty on the motor and inquire about the ease of servicing the motor if a problem develops.
The fabric for the powered chair is an important consideration. Durable and cleanable fabrics may be a consideration based upon the person using the chair. Crypton fabric has become a popular choce for power lift recliners. At the least be sure to understand the cleanability of the fabric you select.
Premium power lift recliner manufacturers like Med -Lift send their products to independent testing facilities. Be sure to understand the warranties that are offered on each component of the chair. We asked Med- Lift to give us some information about their company and products.
"At Med-Lift our goal is to provide our customers with the most reliable lift chairs  available. We are continuously researching methods and materials that will allow us to manufacture products that require less maintenance and provide more years of service. We have had extensive testing performed on our wood frames by an independent furniture testing facility to insure long life and dependability. Med-Lift  started manufacturing quality lift chairs in January of 1990 and over the last 26 years has become number one in the world when it comes to quality and customer service. Med-Lift power lift recliners set the standards in the industry that others try to duplicate.We have a large product line of lift chair models, each available in a large selection of luxurious fabrics and options.  We offer the Crypton fabric upgrade.  Many of our models are available in different sizes, allowing you to be comfortable regardless of your height or weight. Some of the features we offer are three position recline, low voltage / Quiet motors with battery back-up, wall-a-way models, and our exclusive Ultra-Ezz III Miracle Motion massage system. We are also the only lift chair manufacturer to use the Uni-Construction seat and back  frame design.  Every chair comes with the best warranty offered by any lift chair manufacturer."
See a selection of Med Lift Power Lift Recliners here.
Failure to plan is the most common furniture mistake. Be sure to check out the  wide selection of furniture space planners, color wheels and furniture templates available from Furniche.com